Bill's Deviled Eggs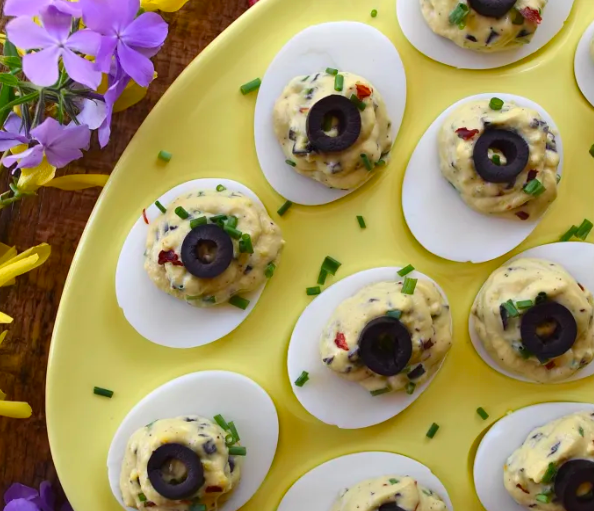 Everyone has a family member who excels in the mastery of the Deviled Egg. Bill always prided himself in his simple yet satisfying summertime egg bites.
THE INGREDIENTS
6 large eggs, hardboiled
1 teaspoon yellow mustard
1 to 2 dashes Tabasco sauce, to taste Salt, to taste
¼ teaspoon freshly ground black pepper
1 tablespoon snipped fresh chives
3 tablespoons mayonnaise 
Sliced black olves, for garnish
Paprika, for garnish 
Whole fresh chives, for garnish
THE PREPARATION
Rinse eggs with warm water, and place in a small saucepan. Cover with cold water, place the pan over medium-high heat and bring to a boil. Turn off heat, cover and let sit for 10-12 minutes.
Drain, rinse under cold water and peel. Cool in the refrigerator, loosely covered, for 15 minutes.
Halve eggs lengthwise, and carefully scoop out yolks. Place yolks in a bowl, and mash with a fork. Add mustard, Tabasco, salt, pepper and snipped chives. Stir in mayonnaise.
Fill each egg white with about 1 1/2 teaspoons of the egg-yolk mixture and place one slice of black olive atop each egg. Dust the top with paprika. Arrange in a spoke design on a deviled egg platter; garnish with whole chives.
Try these other garnish suggestions: bacon bits, caviar, chopped prosciutto, sour cream or even a slice of strawberry. You would be surprised! 
PRO TIP: This recipe is best prepared about 24 hours in advance and kept chilled. The advance preparation allows for the flavors to blend and become more vibrant. Plus, it is now one less task for the day-of madness.